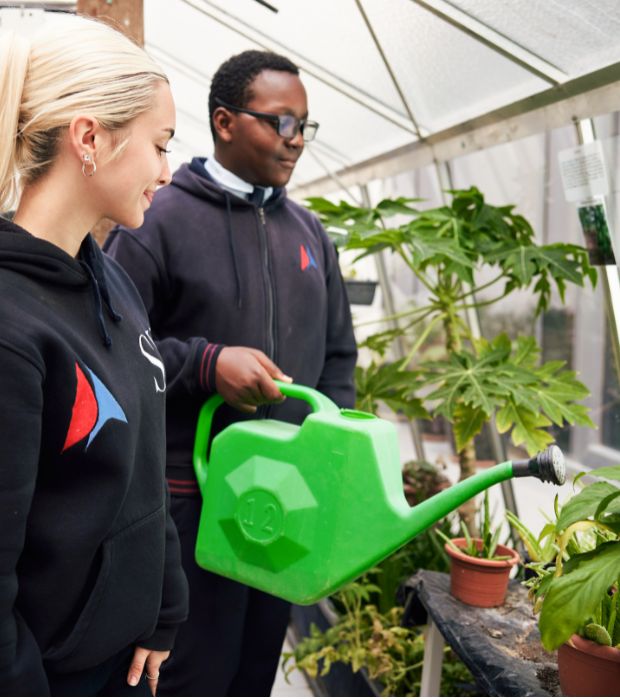 Environmental Sustainability
Being a Better Friend to the Environment
Students take ownership of their destiny as GAAQ scholars leverage teacher support in order to engage and lead in various learning activities and initiatives.
Despite COVID challenges, the balancing demands of SAT preparation and testing, blended learning schedules, weekly Eco-Club meeting, family commitments and involvement in various extra-curricular activities, our Green-invested students displayed one of our core values – TENACITY – and continued pursuing eco-friendly and sustainable measures over the past 2 years. In fact, on campus afterschool activities (ASAs) were cancelled, but the Eco-Club continued to meet each week. As a result, their TENACITY propelled them to key milestones along the way including:
GAAQ becoming the 1st school in Qatar to install a NAAAS-approved aquaponic greenhouse
GAAQ being the recipient of the Qatar Green Building Council (QGBC) School Sustainability Award in the School/University category in March 2020
Now, their hard work paid off for the biggest milestone of all – GAAQ is the most recent beneficiary of the prestigious, international Foundation for Environmental Education (FEE) Eco Schools Green Flag Award. We are only the 3rd school in Qatar to receive this honor. The Eco-Club thanks Ms. Meshal and the Qatar Green Building Council for their continuous support, guidance and acknowledgement as the FEE's national operator.
And… there are still more eco/green projects on the way! Half of the Eco-Club is creating a proposal for THIMUN to show how their club has satisfied the sustainable development goal (SDG) #12: "responsible consumption and production." The other half of the group will be organizing a plant sale for the entire school community to raise money and donate to a charitable cause.