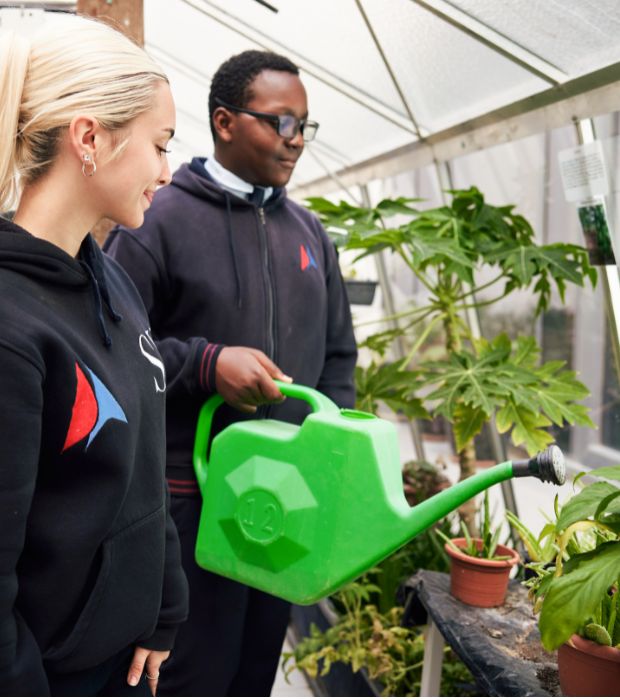 Environmental Sustainability
Being a Better Friend to the Environment
Students take ownership of their destiny as GAAQ scholars leverage teacher support in order to engage and lead in various learning activities and initiatives.
Despite COVID challenges, the balancing demands of SAT preparation and testing, blended learning schedules, weekly Eco-Club meetings, family commitments and involvement in various extra-curricular activities, our Green-invested students displayed one of our core values – TENACITY – and continued pursuing eco-friendly and sustainable measures. Even though on-campus afterschool activities (ASAs) were cancelled, the Eco-Club continued to meet each week. As a result, their TENACITY propelled them to key milestones along the way including:
GAAQ becoming the 1st school in Qatar to install a NAAAS-approved aquaponic greenhouse
GAAQ being the recipient of the Qatar Green Building Council (QGBC) School Sustainability Award in the School/University category
Their hard work paid off for the biggest milestone of all – GAAQ is the most recent beneficiary of the prestigious, international Foundation for Environmental Education (FEE) Eco Schools Green Flag Award. We are only the 3rd school in Qatar to receive this honor. The Eco-Club thanks Ms. Meshal and the Qatar Green Building Council for their continuous support, guidance and acknowledgement as the FEE's national operator.
Lastly, the Eco-Club created a fantastic video for the THIMUN 2021 GAIA (Global Act with Impact Award) awards. The video highlights how the GAAQ eco-community is focused on implementing solutions that address the UN Sustainable Development Goal #13 - "Climate Action." We are happy to announce that the Eco-Club received 2nd place in the 10th Annual THIMUN Qatar GAIA event! Additionally, we are delighted to announce that our Eco-Club President, Roha Ali, won the 2021 THIMUN Qatar Youth Service Award for her years of dedicated service to our school's Eco-Club, to THIMUN and to our school community. Together, the Eco-Club made a long-awaited donation to The Thirst Project to help build wells in South Africa with the money the club has raised over a three-year period.
On behalf of the GAAQ community, we are simply amazed by the club's solidarity, diligence and trust in each other to live out a purpose greater than themselves. Special recognition goes to Upper School Science Teacher, Ms. Christina Balint, for her supervision and guidance of Eco-Club activities!