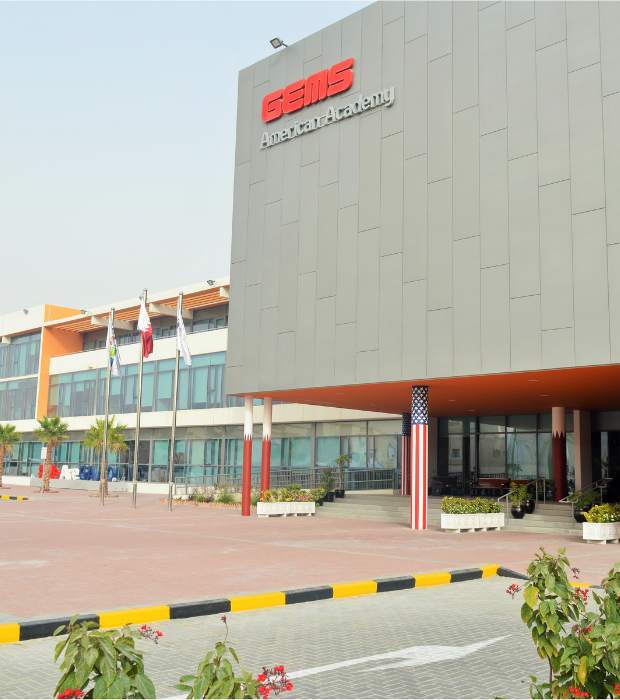 About Our School
Welcome to GEMS American Academy Qatar
GEMS American Academy Qatar (GAAQ) is part of the GEMS Education family, a network of international schools that offer students the highest standard of education. As a GEMS Education school, we embody the GEMS core concepts of leading through innovation, pursuing excellence, growing by learning and global citizenship.
GAAQ is a highly-rated American curriculum school in Qatar that operates under the Ministry of Education (MOE) as an international school.
Our academy, located in Al Wakra, offers a rigorous American curriculum from Pre-Kindergarten through Grade 12 to our multi-cultural student body. In addition to U.S. Common Core standards-based academics that culminate with Advanced Placement (AP), we also provide a robust set of extra-curricular activities (e.g., afterschool clubs and sports teams) to support the development of the entire child.
Our balanced educational program places a strong emphasis on academics while incorporating the arts, athletics, community service and a wide range of learning opportunities inside and outside the classroom. Our curriculum is deepened through child-centered learning and our teachers strive to foster the development of each student's unique talents and abilities. At GAAQ, we firmly believe that education is about overall student development (academic, social, emotional, physical and cognitive learning).
At GEMS American Academy Qatar, we believe:
All people have unconditional worth and should act with self-confidence

Compassion and fairness promote trust and respect

An environment of a zero-tolerance, anti-bullying approach as well as keeping the Internet safe to use is paramount for student comfort and growth

The school should cultivate imagination and instill an appreciation for learning as a joyful, lifelong pursuit

An atmosphere of trust enables children to question, take risks, collaborate and cultivate leadership skills

Significant accomplishments can be achieved through perseverance and hard work

Quality education empowers the individual and expands options throughout life; our staff emphasizes the benefits of holistic learning and character development

Our commitment to advocating teaching and respecting a diverse student body from many cultures throughout the world fosters peace, justice and global understanding
Please click HERE to view our latest School Profile, a document that includes a wide-range of information about the school, curriculum, extracurricular activities, athletics, student body, classes offered, college/university acceptances and other notable facts.
Join GEMS American Academy Qatar on the journey of student development. Click here to apply for admissions, call +974 4032 9000 or email [email protected] for more information.