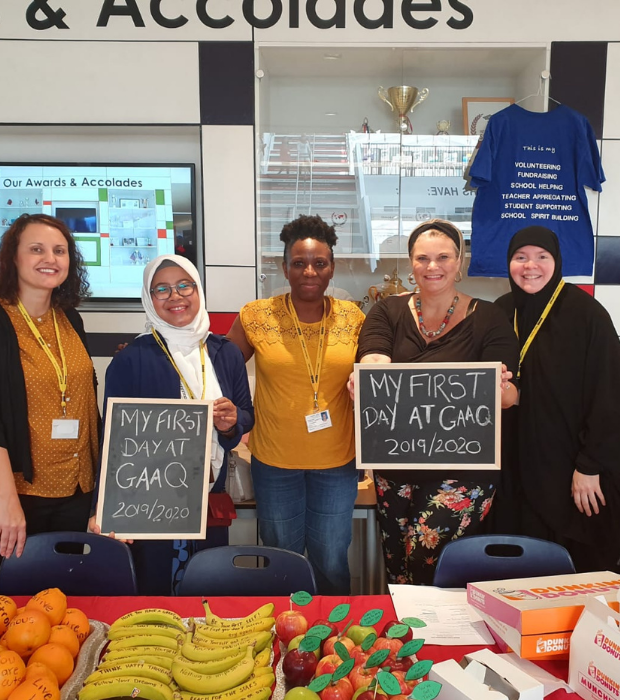 GAAQPA Parent Association
Who We Are
While all parents of GAAQ students are considered members of the Parent Association (PA), a core group of volunteers and elected parent leadership team members tirelessly dedicate their time and effort to organize events and lead initiatives for the benefit of students, parents, staff and the greater school community. They meet regularly each week throughout the year to help strengthen the sense of school community and encourage parental engagement.
What Do We Do?
GAAQ PA hosts and/or helps organize campus and virtual events, including, but not limited to, monthly Parent Coffee Mornings, Earth Day, Autism Awareness Day, Spring Fair, Pizza Day, United Nations Day, Popcorn Day, Family Movie Night, monthly guest speakers and Qatar National Day. These events are also designed to bring the community together and enjoy our nearly 80 nationalities. Additionally, they have a group of parent representatives that maintain an open communication channel with school leadership and the Parent Relations Executive to share feedback on general school matters. Lastly, the Parent Association supports parents by welcoming new families, serving as a resource for parent questions and providing an outlet for busy parents to support the school in their free time.
Get in Touch
Whether you are a new family to the school or a returning parent looking to engage more with the community, meet other parents or just post and share school content on social media, please drop the PA a note a [email protected] or connect via Facebook at GEMS AAQ Parent Teacher Association.
Hear What Some of Our Parents Have To Say
Elias and Uma Shahryar

Parents of Grade 3 and Grade 10 students at GAAQ

"We are a proud GAAQ family! Our children have been academically challenged and are in an environment which allows them to develop their character and further their soft skills. In a short time, GEMS American Academy has served as a home-away-from-home for our kids, as they say, which is the best feeling for any parent!"

Yanna Perkins

Parent of Grade 7 student and Class of 2020 GAAQ graduate

"Right from the start, GEMS American Academy opened its arms to my children and helped them feel part of the GEMS Education family and international community. I thank the school for adding their personal touch to my experience!"