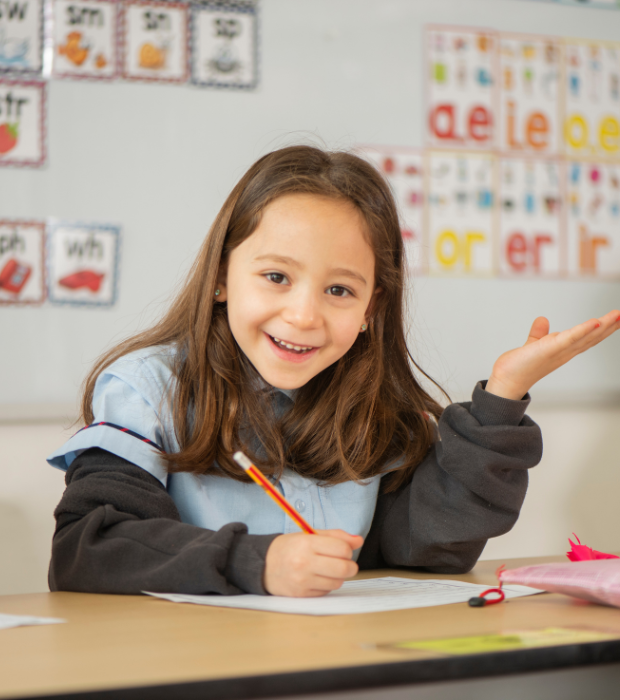 JOIN US AT GAAQ
A GREAT PLACE TO BE.
We believe that a good school is indicative of what happens in the classroom with our students - where the magic of learning takes place. With some of the highest annual parent satisfaction ratings within the entire GEMS Education network, our teachers - along with our leadership, administrative and support staff - are incredibly integral to help students reach their highest level of development as a person. At GEMS American Academy Qatar (GAAQ), our educators inspire students to be future leaders, work in partnership with parents and facilitate opportunities for meaningful connections with the world that last a lifetime. Each year, we look for teachers that can be the catalyst for helping students become fully-developed persons and professionals in tomorrow's world.
Are you ready to build a rewarding career within a fun, engaging learning environment?
Anti-Discrimination Statement
GAAQ guarantees that all constituents will be considered in a manner that is respectful of individual values and beliefs, provided those values and beliefs are not in conflict with the federal laws and local regulations of Qatar. All constituents will receive individualized, considerate and respectful attention when being considered for an interview, hire, selection and/or admission to the school. Consideration and appointment are guaranteed to be free from discrimination based on race, ethnicity, color, nationality, religion, gender, age, familial status and/or disability as GAAQ bases interview and hiring decisions on the merits of skill, qualifications, experience and fit for the program.
Contact: [email protected]
Our values-driven school - built on respect, tenacity, innovative, purpose and leadership - was developed from our trailblazing Head of School/CEO, Mr. Mark Lentz. His mentor inspired him to be active and hands-on with instruction and to instill learning and student engagement in the classroom.
Take a look at our video that demonstrates the impact of our lesson planning and teaching on our students.
OUR VALUES LEAD US FORWARD
We have five (5) core values that provide a clear pathway for our school and how we will
continue to impact our community and educational stakeholders.
Combined nationalities within our student body, faculty and staff

Advanced Placement (AP) courses offered through College Board

Years of combined, diverse experience with our American-led leadership team

Awards won as a result of our Eco-Club's environmental sustainability initiatives
WHY WORK AT GEMS AMERICAN ACADEMY QATAR?
CASEY RILEY

"As of the 2022 – 2023 school year, I am in my fifth year of teaching music at GAAQ and I am continually inspired by the value our school community places on arts education. I love participating alongside our students in creative and playful cross-curricular lessons to refine the academic and social-emotional skills needed for the next generation of global citizens."

ABDULAHI ABDULLE

"I've been teaching here for two years. I could not ask for a better school to teach at! I have enjoyed teaching the students as well as learning from them. As an educator, I believe everyday is a new opportunity to learn and my main goal is to prepare my students to be successful in the rest of their school years. I hope for all of my students to understand that life is learning."

JOSE IGNACIO ROMERO

"I've been teaching at GAAQ since the first day. The best way to describe our school is "Growth." We started as a small community back in 2014 and, nowadays, we count more than 1,200 students and 100+ educators. We have established ourselves as a premier school in Qatar and, as a father, I trust my kids studying at GAAQ are receiving the best education."
WEBSITES
Please Note: Legitimate jobs from our school are only advertised on our own website, GEMSEducation.com, SearchAssociates.com, or Schrole.edu. Please disregard any other websites offering positions at GEMS American Academy Qatar.
If you can't find a relevant vacancy with us at this time, then we would still like to hear from you. Throughout the year, we are collecting resumes and CVs from interested applicants looking to progress in their respective careers. In fact, many of our teachers and leadership staff have initially contacted us directly to submit their resume/CV. Thus, please feel free to do the same and submit your resume or CV to our HR Officer, Jonathan Molmisa, at [email protected].
WATCH OUR TEACHERS IN ACTION
One of GAAQ's Premier Accommodations:
The Pearl Qatar | Viva Bahriya | Tower 26
TEACHER BENEFITS
Tax-free Salary
Top-notch & Exclusive Staff Accommodation - Qatar
Prime residential locations
Relocation & Allowance (Overseas Hire)
Tuition-fee Concession for Staff Kid(s)
End-of-Service Benefits (as per Qatar Labor Law)
WE LOOK FORWARD TO MEETING YOU!
By now, we hope that you have a better understanding of our school culture, learning environment and core values that drive our improvement. If you are interested in joining GEMS American Academy Qatar as a principal, teacher, teaching assistant, substitute teacher or administrative staff, please feel free to email your resume/CV to our HR Office, Jonathan Molmisa, at [email protected].
Also, we have a list of our school's current vacancies below. We'd love to hear from you!