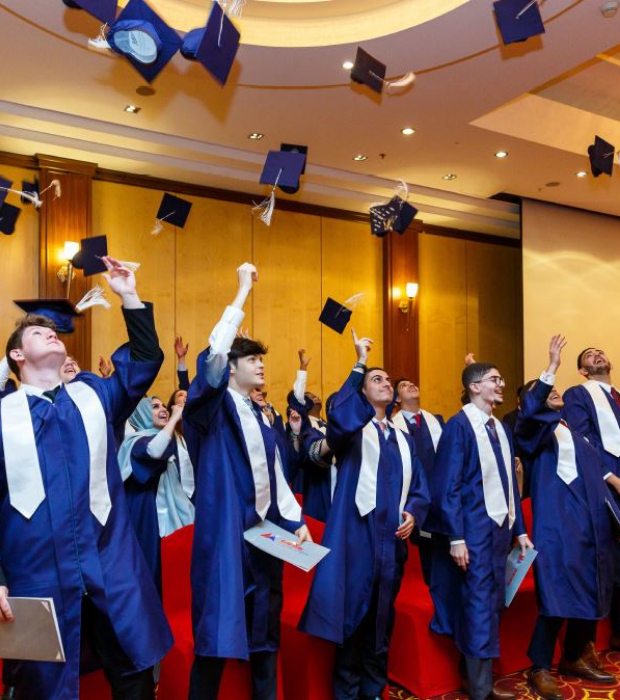 University Destinations
GEMS students are accepted by some of the world's most prestigious universities
In the last four years, GEMS Education has enjoyed some of the best university acceptance rates of any international school groups. Our students have been accepted into 1,050 universities in 53 countries. We are proud to say this includes 66 of the world's top 100 universities.
Within the GEMS Education network, GEMS American Academy Qatar is proud to announce our 100% college acceptance rate from our first three consecutive graduating classes.
These days, there's a lot more to a university than obtaining a world class qualification alone. Here's how we prepare our students for university and the world of work:
Development of employability skills: It's not just a degree that employers look for. A GEMS student gains self-confidence, communication, initiative, team work and time management skills.
Interest and experience in their future study courses: Student in high school explore their career interests through academic projects and assessments which culminates in Grade 12 where GAAQ seniors will undertake a 12-to-16-week internship at the locations of various Qatar companies. This internship day will happen once per week and provide first-hand experience in a particular role or career field.
Improved career prospects: A higher education is a gateway to jobs in the future. Many organizations around the world employ GEMS Alumni. With tens of thousands of contacts all over the world, your child will find a connection wherever their career takes them.
Development of personal and social skills: GEMS Core Values have been part of our DNA for over 55 years. With a GEMS Education, your child will not just become a conscientious student, they'll also gain the confidence and independence to thrive at home, university and at work.
Whether we are lucky enough to teach your child for a few years or many more, the lessons they learn at GEMS and GEMS American Academy Qatar will remain with them for the rest of their lives.
Summary of Top Acceptances for our First Three Graduating Classes
Top Schools in Each Category
| | | | | | | |
| --- | --- | --- | --- | --- | --- | --- |
| | USA | Canada | UK | Europe | Qatar | World |
| 1 | Michigan State University | McMaster University | Coventry University | MetFilm School Berlin (Germany) | Georgetown University Qatar | Monash University (Australia) |
| 2 | University of Arizona | Queen's University | Hult International Business School - London | Franklin University (Switzerland) | Carnegie Mellon University Qatar | Bahçeşehir University (Turkey) |
| 3 | New York Film Academy | Carleton University | University of Leeds | Universidad Europea de Madrid (Spain) | Texas A&M University Qatar | American University of Beirut (Lebanon) |
| 4 | University of Wisconsin | University of British Columbia | King's College London | Saint Louis University - Madrid (Spain) | Virginia Commonwealth University Qatar | Arizona State University (USA) |
| 5 | Texas A&M University | University of Waterloo | University of Liverpool | The Hague University of Applied Sciences (Netherlands) | Northwestern University Qatar | Carnegie Mellon University (USA) |

Flashback to our Class of 2022 Graduation

As the world trended to a semblance of normalcy following the COVID pandemic, our Class of 2022 became the first graduating class since the Class of 2019 to have an in-person graduation ceremony. Here, we honor and respect of recent GAAQ alumni.