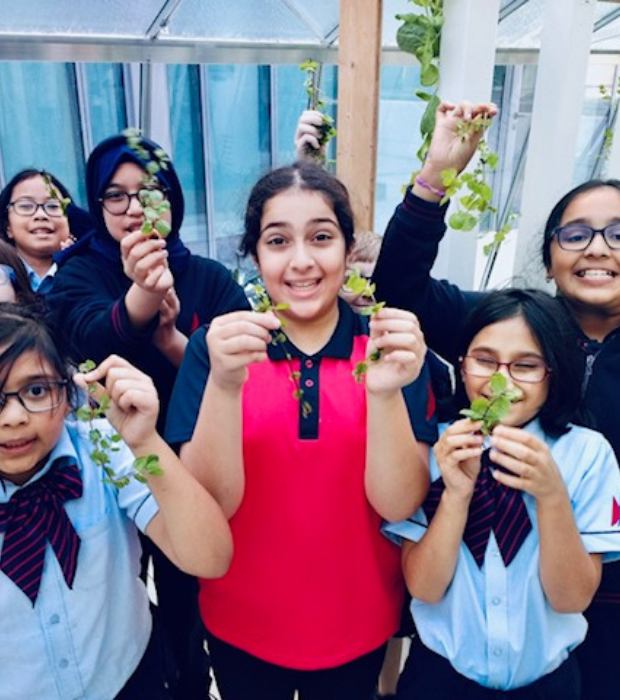 GAAQ First International School in Qatar to Receive the Prestigious Eco Schools Green Flag Award
When GEMS American Academy Qatar (GAAQ) received word that they were the 3rd K – 12 school in Qatar to obtain the prestigious Eco-Schools Green Flag Award, it was a moment of great joy and validation. For the past two years, a contingent of GAAQ green-oriented students and teachers embarked on transforming the school's guiding beliefs and ideals on eco-friendly and sustainable living under the supervision of the Eco-Schools National Operator Team, the Qatar Green Building Council (QGBC). Ultimately, their efforts culminated in winning this internationally-recognized award for excellence in environmental action and learning.
The President of GAAQ's Eco-Club, senior Roha Ali, felt overwhelmed by the award because students and staff only recently started the journey to do their part in improving the world. "We always knew our sustainability journey would yield environmentally constructive results regardless of earning an award. Yet, the feeling of accepting an internationally-renowned award in such a short period of time within a small, tight-knit school community was extraordinary! I was initially and will always be extremely proud of my school community and Eco-Club members for contributing to our green success. The real success, however, was found in the process of preparing for meetings with Eco-Schools, planning our smoothie sales and selling our plants. Those GAAQ memories make me smile when I look at our green flag."
Working in collaboration with Eco-Schools Green Flag teacher supervisor, Ms. Christina Balint (the school's Teacher of the Year for the 2019 – 2020 school year), students truly embodied the academy's unofficial mantra – "student-led, teacher supported" – to drive numerous programs and initiatives. Over time, the collective progress toward the Eco-Schools Green Flag Award resulted in the Qatar Green Building Council Sustainability Award (in the category of "University/College School Sustainability"). So, how did GEMS American Academy rally their entire community behind environmental action and learning?
In 2018, the Advanced Placement Environmental Science (APES) class conducted an initial environmental review of GAAQ and discovered stark findings that indicated significant weaknesses in sustainability measures. Based on their findings, it was concluded that the three biggest focus areas of opportunity were climate change, biodiversity and waste. The APES class collected suggestions from the public regarding these focus areas and created numerous action plans; the best action plan was eventually selected by GAAQ's Senior Leadership Team and GEMS Qatar's Country Director.
At the start of the 2019 – 2020 school year, the Upper School Eco-Committee, under the direction of Ms. Balint and Roha, conducted a survey regarding interest of students in green initiatives. Soon, both the Upper School Eco-Committee and the Lower School Eco Kids Club, led by Ms. Emily Smith, came together to form the present-day Eco Club. Moreover, a group of 12 GAAQ teachers formed the Greenhouse Teacher Group to help establish an aquaponics greenhouse; in 6 months, the Eco-Club was empowered to maintain and supervise this space on a full-time basis. Lastly, a group of GAAQ educators also formed a Green Professional Learning Community (PLC) where teachers discussed how to support environmental education in the school setting.
In two short years, GAAQ students have worked tirelessly to accomplish many sustainable initiatives and projects that provided real-life learning opportunities for students. Additionally, teachers and students regularly worked together to form best practices that could be emulated at other schools as well as Qatar institutions in the future. Some of these initiatives include, but are not limited to: STEM labs using recycled materials, an Upper School greenhouse elective, paper recycling program, Parent Association's reusable produce bags, planting (green wall, palm trees and plant life) and the installation of an aquarium and coy pond. Despite COVID-19 challenges, presentations and communication with QGBC have challenged GAAQ students to continually raise environmental awareness and to stay committed to sustainable habits.
The teacher supervisor to the Eco-Club, Ms. Balint, was amazed at the students' resolve during the pandemic. "When afterschool activities were cancelled in March 2020, I left the fate of the club with the students. Overwhelmingly, their response was to keep going with club meetings and thinking of different ways to contribute to sustainability via donations, virtual educational awareness campaigns and contactless sales. Their tenacity and passion for sustainably naturally showed."
GEMS American Academy Qatar would like to thank Meshal Al Shamari (Director, QGBC), Hamoda Youssef (Head of Communications, QGBC), Ruba Hinnawi (Technical Specialist, QGBC), Marcia Jones (Assessor, ASD), GAAQ Parent Association, Regina Abulola-Turner (former GAAQ parent) and their faculty.