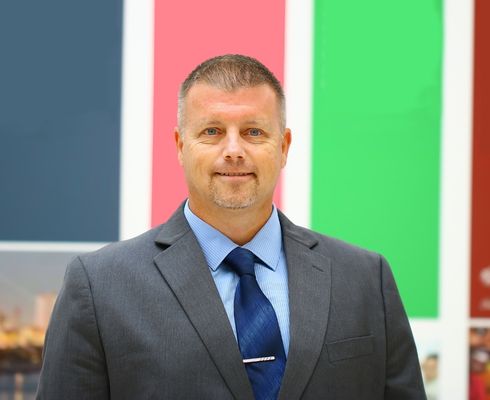 Mark Lentz: Cultivating inquiry-driven classrooms
Mark Lentz has been the Head of School & CEO of GEMS American Academy Qatar since March 2017 and Qatar Country Lead since April 2021. Prior to the appointment, he has worked as an administrator, teacher and counsellor in several schools both internationally and in the United States.
Lentz holds a BA in Psychology and Master's in Clinical Social Work besides a post graduate teaching certification in Social Studies. He is currently finalising his Doctorate in Educational Leadership.
His approach to create a classroom environment that led to problem-based learning helped engage students to leverage their knowledge and apply it cognitively.
In conversation with Education Middle East, Lentz tells us how his counselling background helped him build great school teams and shares tips on how to build profitable schools that focus on academic excellence.
Did you always know that you wanted to be in education?

My career started in psychology and clinical social work, so education was not initially on my radar. However, opportunities within my personal and professional networks led me to move from Florida to take up my first position in K-12 education in California. These disciplines helped cultivate a foundation for connecting with students in a positive and meaningful way. Building trustworthy and genuine relationships as a people-centric professional allowed me to maximise the potential of the clients and people I have worked with. Thus, I soon realised that I held the transferable skills to help prepare students on both an academic and personal level for life beyond school.

Can you tell us about your career so far?

At the start of my career, I worked for several years as a counselor in the state of Florida. I also worked in various state agencies including but not limited to child protective services, foster care and juvenile delinquency. The bridge between counselling and teaching started when I took a counselling position at a small boarding school in the state of California. I often taught one class a year to help make the schedule work. As a result, I taught a wide array of subjects ranging from Latin to snowboarding. Through this experience, I fell in love with teaching because I enjoyed cultivating a classroom environment that led to inquiry and problem-based learning; these approaches helped to actively engage students to leverage their knowledge and apply it cognitively. I therefore enrolled for a Master's in Education programme through the College of New Jersey in the US to obtain my teaching certification. After California, I moved to Switzerland and joined a boarding school as the Dean of Students. In this role, I oversaw their boarding programme, student life and residential programmes, counselling and honor council. While at the boarding school, I completed my IB training and taught IB Psychology and U.S history during my last four years. After Switzerland, I moved to Trinidad and Tobago and joined a private co-education day school as its History Teacher and Head of the Social Studies Department. Before moving to Qatar, I worked at a co-educational college preparatory school in Egypt, initially as an IB TOK teacher. During the Egyptian revolution of January 2011, I was asked to be the High School Assistant Principal. The following year, I became High School Principal and two years later was asked to be Director of the school. During this time, I obtained my superintendent certification and began my doctorate in Education. Over the past 30 years, I have worked as a counsellor, teacher and administrator in schools across five countries in the Americas, Europe and Middle East.

Has your counselling background helped you in building your school teams?

I believe my counseling background has helped me build effective school teams. For example, I have been told by many people that one of my primary strengths is gathering together the right groups of people to work collaboratively towards common goals. One of our learning principles at GEMS American Academy – Qatar is developing healthy relationships. Early in my career as a school counsellor in California, I understood that being a part of the interdisciplinary support team with school nurses, school psychologists, social workers, principals and teachers was invaluable to maximise the potential of students while increasing the learning and understanding of complex concepts throughout a cross-functional team. If a person, place or thing was not effective, it would be easy to identify within the group dynamic and, in turn, offer a chance to monitor and evaluate if the person, place or thing in question is integral enough to either develop or retain on the team. As a Head of School/CEO, this foundational experience prompted me to find the right people, places and things to help accentuate effective systems already in place and build proactive/intervention strategies to mitigate risks within the team. My doctoral studies have focused on the integration of Karl Rogers' counselling theory of unconditional positive regard in schools. Rogers theorised that no one counselling strategy is superior to another. Rather, it is the relationship between the counsellor and patient that leads to the success or failure of the counselling process. Similarly, I theorise that the relationship between the student, teacher, parent and administration is key to the success of a school and its students. I have developed and led many professional seminars and conferences on unconditional positive regard in schools over the past five years.

When you joined GEMS American Academy – Qatar in 2017, what were the top goals you set out to achieve?

When I joined the school in March 2017, I set out four main objectives, as follows:

Maintain the positive, warm and nurturing educational environment that already existed
Achieve NEASC (New England Association of Schools and Colleges) accreditation
Balance the school budget
Hire the best teachers and attract amazing and talented students

One of the aspects of the school that was immediately noticeable was the positive, warm and nurturing school environment. There was something special about the facilities that were equally augmented by the pleasant disposition of our teachers, students and staff. However, to establish our school as a long-term viable educational institution in Qatar, I helped create a clear roadmap to achieve the highest level of school accreditation by NEASC in 2018. With this valuable milestone in our school's possession, I kept working to balance the school's budget to eventually possess a surplus of revenue versus expenditures. This is not a one-time task, as budgets must continuously account for economic, social, political and environmental conditions.

Lastly, hiring the best teachers also has economic impact, as "the average cost of a bad hiring decision is at least 30 percent of the individual's first-year expected earnings". Therefore, it is vital for me to recruit, interview, select and develop great-hire teachers that fit our professional expectations and school culture that attract families that understand the holistic value of GEMS American Academy – Qatar and GEMS Education.

Prior to joining GEMS American Academy – Qatar, you held several positions including director, administrator, teacher and counsellor in several schools. How different is the teacher role from that of a school leader?

Honestly, I believe I have never stopped teaching, as it is now in the form of leading, coaching and mentoring principals, teachers, support staff and administrative personnel. However, the biggest and most difficult difference between being a school leader and a teacher is there is less time in the classroom with students, so I intentionally free up time of the office to roam the halls and classrooms, so I can speak with our students, discuss ideas with administrative teams, evaluate the quality of learning in our classrooms and check-in with staff on a regular basis to see how I can make their job easier. Whether I am handling strategic and budgetary planning, staffing matters, teaching, learning and research or general school management, people are the common denominator and my role as a school leader largely revolves around how I can provide the resources necessary for students, parents, teachers, staff and stakeholders in the community to reach their individual goals and our collective goals.

You are also the CEO of GEMS American Academy. Can you tell us how easy or difficult it is to build a school that emphasises on academic excellence and is profitable?

Over the years, I have worked in a variety of schools that were nonprofit, privately-owned or embassy schools. Even a nonprofit school needs to ensure it has a functioning budget, so I don't think it's unrealistic for a CEO to focus on academic excellence while maintaining a profitable budget. Thus, there are several key areas that I focus on to achieve this balance. First, delivering exceptional customer service helps attract and retain families; this is very important for long-term profitability. Secondly, investments made in recruiting, selecting, developing and retaining the best academic and support talent will help deliver highly rated quality and service that have an immeasurable impact on the school's brand, parent satisfaction, academic success and finances. Furthermore, strategically spending money on effective marketing, public relations and communications campaigns helps spread the right message and highlight unique features that make the school stand out from the competition. Combined with the organic, word-of-mouth advertisement from satisfied parents and students, promotion of the school is eventually transformed into more predictable enrollments and waiting lists in most grades, year after year. Lastly, we offer more internal extracurricular and afterschool programmes that are of no-cost to our families – these value-added services call for more creativity and resourcefulness to boost profitability. I receive a tremendous amount of support balancing academic excellence and profitability from GEMS Education. As a school leader, I have direct access to both corporate and educational leadership, so I can oversee my school under the alignment of the organisation's HR, organisational and departmental goals. There is a reason why we are one of the largest and most successful independent education organisations in the world!

What would your advice be to other school leaders on increasing teacher retention rates?

Over the years, previous and current staff have heard me state that "happy teachers make better teachers than unhappy teachers." The first step to increase teacher satisfaction and retention rates is hiring the best teachers that fit our academic expectations and school culture. Hiring right helps me on the journey towards where our school needs to go. Next, there needs to be an already established supportive climate where various aspects of the school environment – organisational, cultural, instructional, sociological and psychological – are in harmony with the overarching themes of a positive workplace. Moreover, teachers should be able to identify and create pathways that promote teacher engagement. Thus, teachers need a voice to elevate their opinions and promote input on decisions, develop ways to professionally grow through training, performance evaluations, professional development and external opportunities and instill frequent and transparent communication to recognise teacher contributions and enroot trustworthy and proactive interactions. Staff need to feel valued, supported, motivated and successful. Teacher self-efficacy is the key to retention.

What are the latest trends you see in the GCC education market?

We might be tired of hearing about COVID but we have to face the impact it has had on our economies and our schools. Budgets are tighter, teachers are less likely to move overseas and the disparity of abilities in our pupils has widened dramatically. All these factors pose major challenges to running a school. School leaders need to be more careful with their spending while at the same time creating innovative intervention plans. I have already touched on the solutions I'm trying to use at GAAQ but it is imperative to hire the best people to run the best systems, to collaboratively define our common goals and align them, as well as ensure staff are working hard together to meet the individual needs of parents, students and stakeholders.