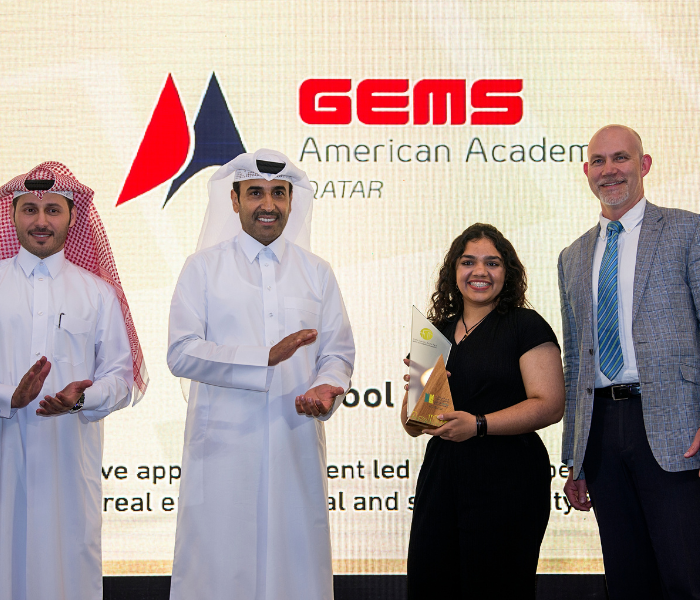 GEMS American Academy Wins QGBC School Sustainability Award
The recipient of the 2020 Qatar Green Building Council's (QGBC) Sustainability Award in the category of "University/College School Sustainability" goes to… GEMS American Academy Qatar (GAAQ)! Roha Ali, Grade 11 student and current Eco-Committee President, has been working diligently with Upper School teachers, school administration and Grade 11 Environmental Science classes to move the school toward environmental awareness and sustainability for the past 18 months. In fact, Roha, along with her school community, has been at the forefront leading this change.
Environmental sustainability can be defined as the environmental awareness leading to practices that ensure that the needs of today's population are met without depleting future generations of its needs. Therefore, as the 2018 - 2019 Advanced Placement (AP) Environmental Science class, Ms. Christina Balint (Upper School Science Teacher) and school leadership collaborated on ways to positively impact the environment, they embarked on a mission to acquire a greenhouse. With initial research from Ms. Balint and support from a small group of volunteer teachers, the reviewing, consulting, negotiating and acquisition of corporate and financial approval was nearly a 12-month process before starting teacher greenhouse training and implementation into the school curriculum. Afterwards, the Eco-Committee took an active role in the process of growing plants without using soil (aquaponic growing), maintaining the greenhouse and conducting educational tours for students and visitors. Furthermore, the benefits have been plentiful for the environment: less land is needed, reduced fossil fuel, 80% less water used than regular agriculture, more adaptable growing relative to the environment and a 100% organic environment.
The school's culture transformation has meshed seamlessly with GAAQ's unofficial mantra of "student-led, teacher-supported inquiry." As the academy is pursuing the Foundation for Environmental Education's (FEE) Eco-Schools Green Flag Award, Ms. Balint notes that "Green Flag assessors have been visiting our school since last year as we are on track for this distinction. Yet, the best outcome of this journey is that our scholars have been more empowered by their ability to lead positive change within the school." In fact, a 2019 education study by Harvard University stated that students actually learned more when taking part in classrooms that employed active-learning strategies. As a result, the student-led Eco-Committee and Environment Science classes have contributed to "green" activities as the aquaponic greenhouse, fish tank, palm trees, paper recycling programs, Earth Day celebrations, replacing paper cups with reusable water bottles, Lower School and Upper School eco-clubs and numerous Grade 11 environmental projects currently in their early phases.
Overall, this transformation towards an eco-friendly school has not come without its challenges. However, one of GAAQ's core values is "tenacity;" students, staff and parents have joined together to stay determined towards incremental eco-friendly improvements. Another step in this lifelong journey came in the form of receiving QGBC's Sustainability Award. So, GAAQ encourages you to do your part today by generating this important conversation at your home, at school, at work or in your community.